s
DYU S2
Ultralight eBike for all ages incl. kids in 2022
Per charge in pedal assist mode

Easy to ride even by kids

Per charge in pedal assist mode

electric bicycles for kids
HIGH-BRIGHTNESS LIGHTS
Especially, the taillight turns on automatically when braking.
Unique taillight design
The sleek and practical taillight adds to the beauty of the eBike.
Comfortable Seat
The adjustable seat is fitted with built-in suspension system.
Wear Resistant
The highly durable vacuum thickened tires are also anti-skid and explosion proof.
Front And Rear Disc Brakes
Sensitive front and rear disc brakes greatly shorten braking distance and ensure safety. The high-temperature carbon treatment on the brake discs, enhanced by dynamic balance detection technology, help avoid over-heating and excessive wear on the brakes.
switch
Switch the riding mode easily with one button.
DYU S2 great little bike!
Love the bike!
It's small but powerful, it's portable & fits in my car with ease. Ride quality is good thanks to the suspension seat post. Gets me to 15mph with ease and goes up hill without issue. Holds charge well, build quality is good, no creaks or speaking.
This is my new fun little bike that I can take into shops for small grocery shopping.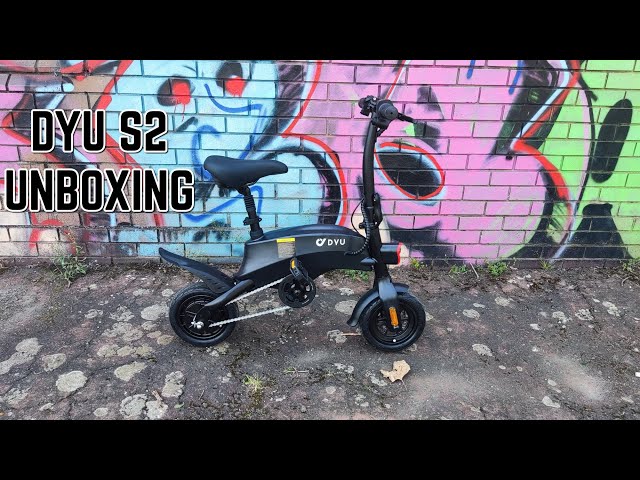 Fun bike to ride!
I love my e-bike, it is perfect for tooling around the neighborhood. I have a few aches in my legs and this bike is so perfect, because if I get tired or need a break, it gives a little boost. We live in the foothills of Connecticut and there are quite a few hills on my bike rides, with the e-bike I can still enjoy a good ride and get up those hills! I still peddle with the boost up the hills , just with out too too much effort or pain. It rides like a regular bike most of the time, but feels easy for me, which makes our lovely rides really enjoyable. I may get a cushion for the seat if we decide to go on longer rides, the seat is okay, but needs a little more cushioning for me. I bought a cup holder with Velcro and was able to easily attach it to the front. You are also riding sitting up rather then shrugged over like a racing bike, although you can lean in if you want a little extra power. Great bike worth every penny!
I commute on bike regularly. After some 16 miles on this bike I love it. It is surprisingly comfortable and stable to ride. It feels even a bit more comfortable to ride over bumps because of thick wheels.for me as commuter, this is well compensated by the mobility: you can stick it in the trunk of a small car very easily.All are amazed at how compact it folds & how light weight it is! Thank you for this design & price.
It's a good bike. it's small but for the price and there customer care is a five star they take care of any problems you would have
The best smaller Ebike for a big city like Manhattan,NY. One thing is very important the PRICE was good for what you can find in the market, PLEASE, PLEASE, Please I understand high demand , $prices goes up. Don't goes more high €449 is good price for 2022 &2023.
If i can give 100star to this ebike i will x100.
DYU S2 10 Inch Electric Mini Bike Compact Stylish
Delivery may be delayed due to COVID-19.
We value each and every customer, and customer satisfaction is always our top priority. Upon every order, we do our best to ensure the fastest possible delivery so that our customers can enjoy the ride right away. Yet in case of any delay beyond our control, your patience would be highly appreciated.
We provide shipping to destinations listed below, via DHL, DPD, or Local Service, free of tax. For other locations, please confirm with us as shipping may not be available or require an extra fee.
LOCAL SHIPPING DESTINATIONS & SHIPPING ARRANGEMENT
Handle time: 1-2 business days.
Product Type
Warehouse
Destination
Delivery time
Cost
Remarks

eBikes

Poland
EU
2~7 business days
FREE
Excluding Outlying islands.

eBikes

Birmingham
UK
2~5 business days

FREE

Excluding Isle of Man,
Belfast, Jersey, Guernsey.
Accessories / Parts
China
All over the world
7~14 business days
FREE
Excluding remoted area.
WE SHIP TO
Austria, Belgium, Denmark, Finland, France, Germany, Ireland, Italy, Latvia, Lithuania, Luxembourg, Netherlands, Poland, Portugal, Spain, Sweden, and United Kingdom. We DO NOT ship to PO BOXES or APO, Frisian, Canary or Channel Islands.
SHIPPING CHANGES
NO CHARGE for changing the address BEFORE the tracking number is generated.
€80 WILL BE CHARGED when the in-transit logistics information shows that the change is successful on DPD, UPS, FedEx, DHL or any other shipping service.
€150 WILL BE CHARGED if the package is refused by the customer upon delivery, or delivered to the wrong address provided by the customer.
€150 WILL BE CHARGED if the package has already been delivered to the original address successfully.
ORDER TRACKING
You can track your order and shipping & handle information on your account if you have registered one on dyucycle.com. If you haven't registered on our site, you can also track your package here with your tracking number. For more shipping information, For more information, you may email us service@dyucycle.com. and we will get back to you in 24 hours.
Please Notes:
Shipping time can be affected by variable customs clearance time and public holidays. If your package has not arrived as estimated above, please feel free to contact us for more information.
On public holidays, manufacturers and couriers may limit operation, which is beyond our control. Normal operation will resume immediately after the holiday.
It can take a few days before the tracking number appears in the courier's system. Check again later when it is not available yet.
All shipping time shown above is estimated based on data from past orders. It is for reference only.
We will responsible for any lost, stolen, or damaged items due to the actions or inactions of DPD, 

UPS, FedEx, DHL

or any other shipping service.
You may pay us to arrange the shipping for you, and this shipping cost will not be refundable. You may also find a trackable shipping service on your own and pay them directly.] We cannot guarantee that we will receive the item you attempt to return. For more information, please review our Limited Warranty Terms, which are incorporated into by reference and form a part of these Terms.